Giudecca is a complex of eight smaller islands connected together to form a unique territory located south of the historic centre of Venice. The island was formerly called "Spinalonga" because of its iconic thin and long shape separated from Venice by the Giudecca Canal.
Giudecca represents the perfect escape from the overtourism of Venice but the risk of an escalating touristification is around the corner. Is there a way to break the pattern and help local nonprofits and communities to regain a sense of belonging, and strengthen the pleasure of living a good life on the island? Can we slow down the process of colonisation of this gem? This is what our students are set to explore. 
Giudecca complex represents a perfect escape from overpopulated Venice, however, the number of its residents is steadily decreasing too. Many fear that soon the island will meet the same fate as its neighbour. 
The students of our training aim to run a project that will help make living on the island more attractive, especially for those who already reside there. Their task is to involve the local community, which is active but fragmented, to build together a stronger sense of belonging and pride around living on the island. The idea is to design events, community-building activities and PR campaigns that will help people feel more appreciative of their neighbourhood, its history and uniqueness. They also want to build stronger ties in the community, which will increase people's motivation to stay and invest in the island's future.
Adriano Cancellieri​
Marika Moscatelli
Martina Pestarino​
University of Venice (IUAV)
Alessandra Zagli
Mattia Forni
Harshita Thakare
Lama Development And Cooperation Agency Societa Cooperativa
Federica Pesce
Federica Taeko Centra​
Laura Bove
Melting Pro Learning Societa Cooperativa
Irene Bedin
Giovanni Corsini
Annamaria Cremascoli
Giada Crispiels
Ilaria Degradi
Teresa Ditadi
Sarah Ndjo Fernandes
Vittoria Fiore
Francesca Giglione 
Chiara Giusti
Riccardo Masiero
Ilaria Morganti
Marco Piscopo
Daniele Terzariol
Greta Tofanelli Picchi
Franco Voltolini
Private and publics partners
Photo by University of Venice/Luca Pilot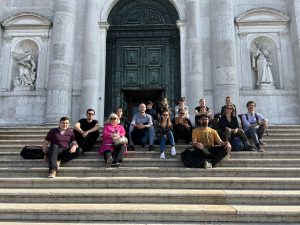 On 2-6 May, 2022, the EUREKA partners met to discuss the results of the co-design tables that happened across Europe.